Letter from the Vicarage
The Vicarage, Locking, June 2023
Dear friends,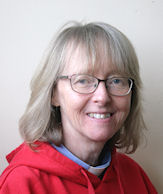 It seems that we are moving into summertime at long last. Despite the fact that we moan about the weather it is good to have the different seasons and to know that in the year there is a time for certain things to happen in nature and in God's creation. We read in the Bible 'There is a time for everything, and a season for every activity under the heavens.' Ecclesiastes 3: 1. In my life I have always sought to follow God's ways and His plans for me, to ask what season am I in and what does He want me to do. I have been ministering in the Benefice of Hutton and Locking for over 16 years. It has indeed been quite a journey with wonderful times of blessing, joy and encouragement, as well as very tough times when it would have been very easy to run away and hide. Through all the joys and struggles my Lord Jesus has always given me His strength, comfort, love and encouragement. He has always been there for me and His promise is true 'I will never leave or forsake you.'
On Sunday 14th May we had a United Service, when I announced to both church families of Hutton and Locking that Chris and I will be moving sometime at the end of the summer. I will be licensed as Priest-in-Charge to the Parish of All Saints with St Mary's Sawley in the Diocese of Derby. We are both very sad to be leaving here, but also excited at what our Lord has in store for us. He has indeed led us and opened the door for us to start a new ministry in a new parish together.
Locking Church is a wonderful church that is filled with love and a desire to reach out to the parish of Locking. This past year we have seen the success of the community café which draws many people to be together and to enjoy each other's company. It has also been good to have the warm room (now the community room) with the parish pantry, which has fulfilled a real need for people to have some company and also get some much-needed groceries. This room is staying open all year on Tuesday afternoons. We are blessed with a beautiful church building – though it is needing some urgent work doing which is costly. We are also very blessed with a wonderful church centre with fantastic facilities. Locking church and centre is not ours but is yours, they are for the whole community. We are seeking to bring the love of Jesus to our whole community. Some of the best moments of my time here has been enabling people see Jesus for who He really is and of them coming to faith and new life in Jesus. This is why I was ordained.
I will continue to pray for Locking as it will always have a special place in my heart. I will pray that many will come along and become part of the church family here and will find new life in following Jesus.
Details of my last service and farewell will be in the next issue.
Every blessing

Revd Anne Wilkins
---
Click Here - for Stay Connected News, Notices and helpful information
Click Here - For our latest Talks and Sermons
Click Here - To Give online to St Augustines's Church and our Mission Partners